Familiarisation 5th December 2021 Auditions 12th December
SPEAKING PARTS:
10f, 5m, 1 x girl teenager, 2 x boy teenagers. Minimal movement.**NOTE: Soundtrack available on iTunes and Spotify**
SYNOPSIS:The death of a much loved husband prompts a group of ordinary women in a small Yorkshire Women's Institute to do an extraordinary thing. Blasting away all preconceptions of what it is to be in a women's institute, they decide to do an artistic nude calendar to raise money for charity. Upturning preconceptions is a dangerous business and none of them expect the emotional and personal ramifications, but gradually the making of the fabulous and funny calendar brings each woman unexpectedly into flower.
The true story of the Calendar Girls launched a global phenomenon, a million copycat calendars, a record breaking movie, stage play and musical written by Tim Firth and Gary Barlow which coined the term "craughing" – the act of crying and laughing at the same time.
With unforgettable songs, every performance continues to add to the millions already raised for charity and also prove that there is no such thing as an ordinary woman.CAST OF CHARACTERSCHRIS – 50s
You want Chris at your party. She will talk to people she doesn't know, find things to say to fill silences and generate laughter. Part of this is because Chris is at home in crowds, holding court, being the Centre of attention. Without Chris in her life, Annie would be better behaved, her life less fun. The two of them are like naughty schoolgirls.
Ideal car – who cares, long as it's a cabriolet. Ideal holiday – Algarve.
ANNIE – 50s
Annie will join in mischief but is at heart more conformist and less confrontational than Chris.
After Chris has put a waiter's back up in the restaurant, Annie will go in and pour calm. The mischievousness Chris elicits saves Annie from being a saint. She has enough edge to be interesting, and enough salt not to be too sweet.
Ideal car – who cares, long as it's reliable. Ideal holiday – walking in English countryside.
Together these two are greater than the sum of their parts. They would be lesser humans had they not met each other. Each is spiritual mustard to the other's meat.
CORA – late 30s, carly 40s
Cora went to college and soon came back pregnant and tail-between-legs. She has too much
native resilience to be downtrodden. The joker in the pack, she never plays the fool. Her wit is deadpan. It raises laughter in others, but rarely in herself… Her relationship with her son is more akin to that between Chris and Annie.
Ideal car – who cares, long as the sound system is loud. Ideal holiday – New York.JESSIE – 70s/80s
Get on the right side of Jessie as a teacher and she'll be the teacher you remember for life. Get on
the wrong side and you will regret every waking hour. A lover of life, Jessie doesn't bother with
cosmetics – her elixir of life is bravery. Jessie goes on rollercoasters. Her husband has been with her a
long time and is rarely surprised by her actions. Jessie bothers about grammar and will correct stallholders regarding their abuse of the apostrophe 's'.
Ideal car – strange-looking European thing which is no longer manufactured. Ideal holiday – walking in
Switzerland or Angkor Watt.
CELIA – 50s
The fact that Celia is in the WI is the greatest justification of its existence. She always feels like
she's drifted in from another world. Which she has. Ex air hostess and life-liver, there is a rebelliousness
in Celia which sets her apart from the vapid materialism of her husband's golfing peer group and made
her defect.
Ideal car – Porsche, which she has. Ideal holiday – Maldives, where she often goes.
RUTH – 40s
right-hand woman she is desperate to be the cartilage in the spine of the WI and keep everyone happy,
She has spine herself – if she was too wet, no-one would want her around. But they do, and they feel
protective of her because they sense there is something better in Ruth than her life is letting out. They are proved right.
Ideal car – at the start, whatever Eddie wants, at the end, whatever she wants. Ideal holiday – at the start
wherever Eddie is, at the end wherever he isn't.
MARIE – late 40s, early 50
Marie has gradually built the current "Marie' around herself over the years as a defense
mechanism. She went to her Oz – Cheshire – and found Oz didn't want her. She came back scorched. The WI is a trophy to her, which justifies her entire existence. There is a lingering part of Marie with the
'Marie' that would love to be on that calendar.
Ideal car – something German and well-valeted. Ideal holiday – a quasi-academic tour of somewhere in
Persia advertised in a Sunday Supplement which she could then interminably bang on about.JOHN – 50
John is a human sunflower. Not a saint. Not a hero. Just the kind of man you'd want in your car
when crossing America. When he dies it feels like someone somewhere turned a light off.ROD – 50s
You have to be a certain kind of guy to stick with Chris and Rod loves it. He can give back what
he gets and has a deadpan humour which has always made Chris laugh. He drinks a lot but never so much as to have a problem. He would work every hour to make his shop a success. And John was his mate, even though the relationship was originally channelled through their wives.
LAWRENCE – late 20s, early 30s
Hesitant without being nerdy, Laurence is a shy young man with enough wit to make a joke and
enough spirit to turn up at the in the first place. When he arranges the shots he is close to nudity
but sees only the photo.
COLIN – 70s/80s
Jessie's husband, and as rebellious and compliant as that would suggest.DENIS – 50s
Celia's husband, working class lad done well, and now captain of golf club. Met her on a flight.
MISS WILSON (TEA)
MISS WILSON (COFFEE)
Two sisters who are part of the fabric of the village and the manual labour backbone of the WI
but say nothing except their drinks offering. Until the end. BRENDA HULSE-60s
Speaker at WI. Can double as:
LADY CRAVENSHIRE – 60s
The local dignitary who gives the award at the Spring Fête.DANNY – 16
Chris and Rod's son, the conscientious head boy.JENNY – 16
Who we find out is Marie's daughter and who has rebelled against her mother for years.
TOMMO – 16
Cora's son, Danny's best mate who is also his mum's best mate.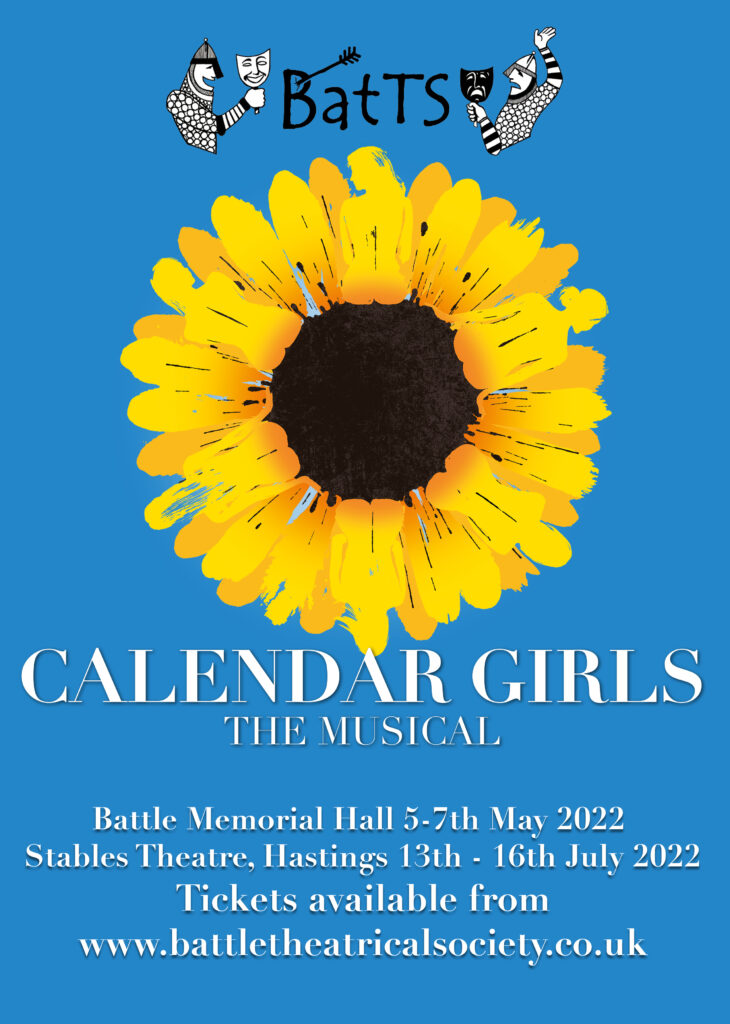 To control numbers and ensure maximum Covid protection we ask everyone attending to obtain a free ticket for familiarisation and auditions:
Here are some pictures from our SOLD OUT November 2021 Production of Joseph: